Translation Services Near Me
NLC is a leading professional translation company that provides specialized translation services for businesses, organizations, individuals, and families.
Get in touch
Many times, we are found by using "Translation Services Near me"
NLC Translations is an experienced translation agency providing the very best document translation services to clients across the United States and the world. You can visit our locations page for specific locations. While we service these major cities and surrounding areas, we also assist clients residing in other areas. As we only need digital copies of your documents in order to translate, there is no need to hand your documents in person. This process saves you time, money, and improves efficiency in the process of delivering quality translations to you.
From start to finish your documents will be 100% human translated. Our NLC Quality Process is in place to ensure accurate translations every time.
Fastest professional quality translations in the industry. Let us know your deadline and we will do our best to accommodate you.
Our process is safe and secure
Have questions first? No problem! Don't hesitate to give us a call at 1-833-744-1555 to speak to one of our representatives about your specific translation needs.
Ready to get started? Awesome! You can use our contact form at the bottom of this page to safely and securely upload your documents to get a fast quote. Please provide any details that will help us in the quote process such as when you need the translation completed, or only certain pages of your document require translation. Additionally, the language or languages needed and if there are any special instructions. All of this information upfront will help our team quote your translation project quickly. Once you receive your quote, we can provide you with a secure payment link. After the payment has been processed, we can begin working on your translation. The translation will be delivered via email as soon as it has been finalized based on the amount of time on the quote issued. Any additional methods of delivery such as mailing of physical copies, or notarization will take place after you had a chance to take a look and approve the translation delivery.
Our process ensures high-quality services delivered on time, every time.
For each translation, we utilize a 3-Step process, refined over years of experience in the translation industry. This process consists of translation by an experienced professional, followed by extensive editing, and proofreading. To ensure the best and most reliable services your request is handled by a professional project manager from the initial quote submission to delivery.
Any format, any length, any language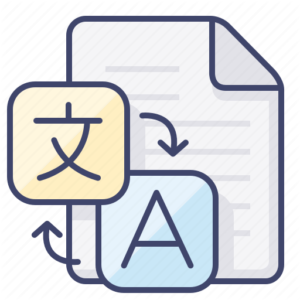 Our services are not limited to any particular document format or length. Our team can translate all types of documents, in any language you require, at an affordable price.
Translation Warranty
NLC guarantees delivery of high-quality translation services. If it is determined by the customer that an error is present after review of the delivered translation, we will correct the error, free of charge. Customers can report errors by phone or email and they will be corrected within a reasonable time frame after receipt of notification.
Certified Translations Services Near Me
You've come to the right place to complete your certified translations! We provide you with the best translation service that takes into consideration your needs. Accuracy and speed are our specialties! We deliver on time, every time, and your translations are completed by 100% human linguists to ensure the quality of your translations. Our certification letter is included at no extra charge which contains all the requirements for USCIS and most governmental entities. When additional requirements are needed, our notarization will usually cover those needs. Talk to one of our representatives today to get started!
Fast Translation Services
We offer fast and accurate translation services in over 100 languages. Below you will find our top 10 frequently handled languages.
Spanish, Portuguese, French, Chinese, Russian, Ukrainian, German, Japanese, Korean, and Arabic.
Rest assured while these are our most popular languages, we have no problem in providing you with over 100 other languages.


Pricing tailored to your needs
All translations are 100% Human professional translations completed by our accredited translators. Pricing is dependent on unique factors such as language, content, amount of words, file format, deadline, and other specific requirements of your project.
250-300 words per page

Factors to consider:

Total amount of words

Language

Subject matter

File format

Deadline
Average Total
24-48 hr. delivery
250 words approximately per page

Factors to consider:

Total amount of words

Language

Subject matter

File format

Deadline
Notary and Shipping
Per notary and package
Starting price

Factors to consider:

Amount of notaries and physical copies

Rush or standard delivery

Domestic or international

*A certified translation will not incur charges to be certified
Have questions about our services?
Give us a call or send a message, our representatives are ready to assist with your translation needs.
All Information is Kept Safe, Secure, and Confidential. 
The legal documents that I needed translated exceeded my expectations! I have let my colleagues know to reach out to you for any of our translation needs.
Jessica S. – Texas Law Firm
The documents look great! Look forward to working with your team again!
John S. – Marketing
The translations were exactly what I needed for USCIS! Thanks again !
Jose R. – Individual Personal Request